14.7.10
14.7.10 |
Posted by Nancy Brumfield
|
Edit Post
Bubble Revamp Take 2
If you missed the first Bubble Revamp you can see it
HERE
Aiyanna has these super cute bubble/romper that doesn't fit her in the length anymore.This is one of my absolutely favorite pieces of summer clothing she has.I just wasn't ready to say bye to it yet. Am I crazy or have y'all felt the same way?Anyway, here is the bubble I'm talking about.
Isn't it darling?
Here's what it looks like now. She'll be able to wear this next summer too. YAY!!!!!
Here's how:
Cut the bottom off just above the snaps.
Make a 1/2" hem and then fold up another 1/2" and iron.
Sew close to the fold.
That's it. Sooooo simple!
Now go enjoy a tea party....
...complete with guests. Ponies, does it get any better?
We hope you enjoy your day!!!
Come back Saturday for a great Scrap Buster!!!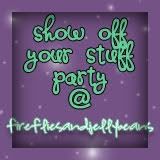 ahref="http://iheartnaptime.blogspot.com">
Labels:
Girls Clothes
,
Tutorials
,
Upcycled