6.7.10
6.7.10 |
Posted by Nancy Brumfield
|
Edit Post
I made this shirt a month or so ago. Every time I wear it I get tons of compliments!
Here's what I started with.
I scored 2 of these shirts for $1 each. I knew I wanted to refashion it. I didn't really care for it buttoning down the front. I remembered this tutorial at
Tea Rose Home
that I have been wanting to do. I grabbed the two shirts and got busy. My shirt is a little different. Here's what I did.
I love the lettuce edge at the bottom. I cut it off 2" from the bottom. and put it aside for later. I used it to make the flower.
Cut 4 strips each of them 2" wide.
Gather the strips using a long stitch.
The first strip goes from shoulder seam to shoulder seam. Adjust gathers and then sew in place.
The second strip is about 4" shorter on each side. Adjust gathers and sew in place.
The third and fourth ruffle is about 1.5" shorter than the second. Adjust gathers and sew in place.
Cut 2 strips 1/2" wide and as long as you want.
Find the middle of the strips and stitch them to the shirt where you want your flower to go.
Grab the strip you cut off the bottom and gather using a long stitch on the straight edge.
I gathered it, then rolled it and stitched it together as I rolled.
Sew the flower on the spot where you stitched the strips down.
Put it on and be ready for the compliments to start coming!!!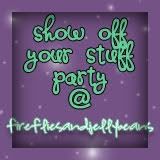 Labels:
For Ladies
,
Tutorials
,
Upcycled